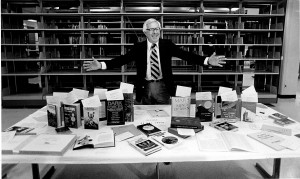 Ray Bradbury, one of the most influential and prolific science fiction writers of all time, has had a lasting impact on a broad array of entertainment culture. In his canon of books, Bradbury often emphasized exploring human psychology to create tension in his stories, which left the more fantastical elements lurking just below the surface. Many of his works have been adapted for movies, comic books, television, and the stage, and the themes he explores continue to resonate with audiences today. The notable 1966 classic film Fahrenheit 451 perfectly captured the definition of a futuristic dystopia, for example, while the eponymous television series he penned, The Ray Bradbury Theatre, is an anthology of science fiction stories and teleplays whose themes greatly represented Bradbury's signature style. ScriptPhD.com was privileged to cover one of Ray Bradbury's last appearances at San Diego Comic-Con, just prior to his death, where he discussed everything from his disdain for the Internet to his prescient premonitions of many technological advances to his steadfast support for the necessity of space exploration. In the special guest post below, we explore how the latest Bradbury adapataion, the new television show The Whispers, continues his enduring legacy of psychological and sci-fi suspense.

Premiering to largely positive reviews, ABC's new show The Whispers is based on Bradbury's short story "Zero Hour" from his book The Illustrated Man. Both stories are about children finding a new imaginary friend, Drill, who wants to play a game called "Invasion" with them. The adults in their lives are dismissive of their behavior until the children start acting strangely and sinister events start to take place. Bradbury's story is a relatively short read with just a few characters that ends on a chilling note, while The Whispers seeks to extend the plot over the course of at least one season, and to that end it features an expanded cast including journalists, policemen, and government agents.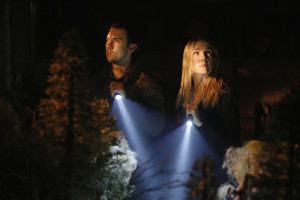 The targeting of young, impressionable minds by malevolent forces is deeply disturbing, and it seems entirely plausible that parents would write off odd behavior or the presence of imaginary friends as a simple part of growing up. In both the story and the show, the adults do not realize that they are dealing with a very real and tangible threat until it's too late. The dread escalates when the adults realize that children who don't know each other are all talking to the same person. The fear of the unknown, merely hinted at in Bradbury's story, will seem to be exploited to great effect during the show's run.
When "Zero Hour" was written in 1951, America was in the midst of McCarthyism and the Red Scare, and the fear of Communism and homosexuality ran rampant. As the tensions of the Cold War grew, so too did the anxiety that Communists had infiltrated American society, with many of the most aggressively targeted individuals for "un-American" activities belonging to the Hollywood filmmaking and writing communities. Bradbury's story shares with many other fictions of the time period a healthy dose of paranoia and fear around possession and mind control. Indeed, Fahrenheit 451, a parable about a futuristic world in which books are banned, is also a parable about the dangers of censorship and political hysteria.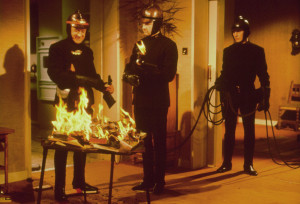 The makers of The Whispers recognize that these concerns still permeate our collective consciousness, and have updated the story with modern subject matter, expanding the subject of our apprehension to state surveillance and abuse of authority. To wit, many recent films and shows have explored similar themes amidst the psychological ramifications of highly developed artificial intelligence and its ability to control and even harm humans. Our concurrent obsession with and fear of technology run amok is another topic explored by Ray Bradbury in many of his later works. The idea that those around us are participating in a grand scheme that will bring us harm still sows seeds of discontent and mistrust in our minds. For that reason, the concept continues to be used in suspense television and cinema to this day.
One of the reasons Bradbury's work continues to serve as the inspiration for so much contemporary entertainment is his use of everyday situations and human oddities to create intrigue. One such example is a 5-issue series called Shadow Show based on Bradbury's work, released in 2014 by comic book publisher IDW. Some of the best artists, writers and comics had agreed to participate in this project since Bradbury had such a huge influence in their writing and art. In this anthology, Harlan Ellison's "Weariness" perfectly elicits Bradbury's dystopia in which our main characters experience the universe's end. The terrifying end of life as we know it is one of Bradbury's recurring themes, depicted in writings like The Martian Chronicles. He rarely felt the need to set his stories in faraway galaxies or adorn them with futuristic gadgets. Most of his writing focussed on the frightening aspects of humans in quotidien surroundings, such as in the 2002 novel, Let's All Kill Constance. Much of The Whispers takes place in an ordinary suburban neighborhood, and like many of his stories, what seems at first to be a simple curiosity, is hiding something much more complex and frightening.
Fiction that brings out the spookiness inherent in so many facets of human nature creates a stronger and more enduring bond with its audience, since we can easily deposit ourselves into the characters' situations, and all of a sudden we find that we're directly experiencing their plight on an emotional level. That's always been, as Bradbury well knew, the key to great suspense.
Maria Ramos is a tech and sci-fi writer interested in comic books, cycling, and horror films. Her hobbies include cooking, doodling, and finding local shops around the city. She currently lives in Chicago with her two pet turtles, Franklin and Roy. You can follow her on Twitter @MariaRamos1889.
*****************
ScriptPhD.com covers science and technology in entertainment, media and advertising. Hire our consulting company for creative content development. Follow us on Twitter and Facebook. Subscribe to our podcast on SoundCloud or iTunes.